(1) This is a 6 string guitar...This is also my Guitar.I love guitar so much because they just make a great sound when they are played right. Also because it's relaxing to listen to when your stressed out and sad.
(2) This is a 4 string guitar with it's golden neck...Also know as a bass guitar,they are easier to play is what I think and have not as good as sound as an Acoustic Guitar.

















(3)All three of these Guitars are Electric the last one "yellow" has "12" strings.But they're all the same brand.The middle guitar is the best sound out of all of them because of the neck and how there's certain holes on the guitar.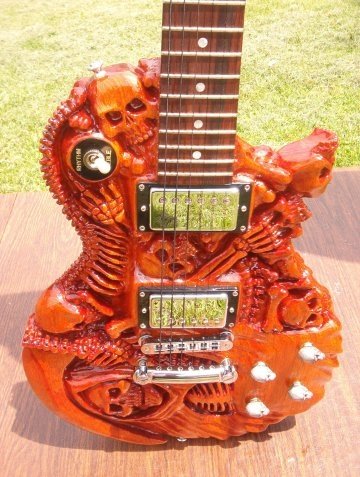 (4)But see here Les Paul has the best guitar creations in the world. No other guitar company can do what Les Paul does...It's a proven fact.





(5) See here is another great guitar creation by Les Paul it is a working guitar but it lights up every time you tune your guitar it turns green when its the right cord.
(6)This is Les Paul's most famous guitar and expensive guitar ever.
My whole point of tell you all this is because I was trying to express MUSIC!!